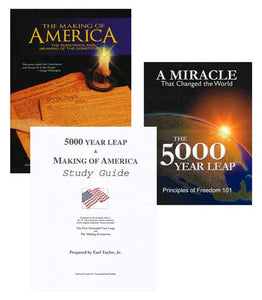 5000 Year Leap
The industrial revolution thrust mankind ahead 5,000 years! For most of the earth's history, man has lived basically under the same primitive conditions. Suddenly, in an element of free enterprise, advancements were made that drastically changed man from the farmer to the space explorer. But there was hardly a single idea that the American Founding Fathers put into their plan that hadn't been thought of before. When the Constitution was being written, none of those ideas were really being practiced anywhere in the world. It was in America that true freedom was born, based on 28 principles endorsed by the Founding Fathers. These principles and their influence on the world caused a great forward leap in technology. These were ideas such as 1) the proper role of government is to protect equal rights not to provide equal things and 2) a free people will not survive unless they stay strong. This inspiring book contains a chapter discussion on each of the 28 principles of freedom. Paperback, 337 pages. Black-and-white illustrations.
The Making of America
I have never found a more sound and more inspiring explanation of the Constitution and American government than W. Cleon Skousen's classic volume. We have often marveled at the incredible insights into our God-given form of government. The first 1/3 of the book relates history of the time that led up to the Constitution, treating the Founding Fathers with utmost respect. The remainder of the book examines the Constitution in detail. Passages from the writings of America's founders explain their intent with each clause in the Constitution. Since being well versed in the Constitution is our only hope of protecting our freedom, I believe that every family needs to learn it the best they can. Teen/adult reading level. Hardcover, 888 pages. A classic!
American Government and US Constitution Study Course
This helpful study guide provides a fill-in-the-blank, question and answer approach to studying American government and the Constitution, using well-respected Constitution authority W. Cleon Skousen's books The 5000 Year Leap and The Making of America. Can be used as either a personal study syllabus or as a guide for family discussions. The materials will help you gain an in-depth understanding of how the Founding Fathers discovered our inspired system of self-government, what the actual text of the Constitution truly means, and how to view important current events from a constitutional perspective. Originally written to be used in once-a-month neighborhood meetings, each lesson gives the reading assignments and then asks 20 questions, leaving space to write in the answers. Teen/adult level. 68 pages in binder.
Come see more of our homeschool product videos!