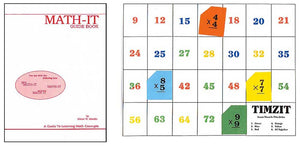 NOTE:  Math-it is currently out of print.  I sure hope it comes back in print very soon, as it is one of my favorite math resources!
Ta-dah! Here is the BEST thing ever invented for learning math facts!
Instead of teaching your child to memorize math facts, teach him how to figure them out and he will never "forget"! For example: learning the "9 times" is easy when you realize that every answer is two digits that add up to 9: 4 x 9 = 36. The digits 3 + 6 = 9. The first digit of the answer (3) is easy to figure out because it is just a count back one (from 4 to 3). Games include Add-it, Double-it, Half-it and Times-it, plus a teacher-friendly, illustrated manual. I don't know how any teacher gets along without it. (Take my advice and laminate the game boards and cards before you wear them out like I did.) Highly recommended!
Note: This is a special packaging that does not include an outer box as a way to reduce the price for my customers!