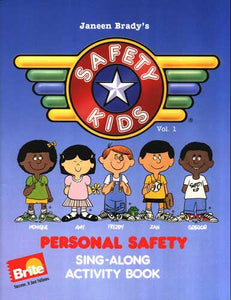 What times we live in! Without frightening children, it is vital to teach them to protect themselves. These catchy songs from Brite Music teach a powerful lesson in personal safety, and one that is not easily forgotten over the years. Sing-along CD comes with quality coloring book illustrating each song, complete with lyrics. Your child will learn his telephone number, what to do if he is lost, not to go to the restroom alone, what parts of his body are private—how to be safe in every situation.

Let the Safety Kids share their knowledge about personal safety. These great songs will teach your child to stay safe from strangers, use the buddy system and learn his telephone number.
This is a digital download of the book (pdf) and music (MP3). Includes 8 audio tracks & a 34-page activity book. It will download immediately upon purchase.