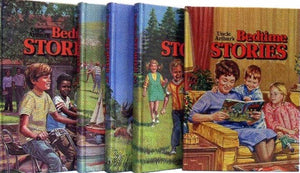 Everybody loves a story! Evenings at my house are time for read-aloud, and my children's favorite stories have always been Uncle Arthur's Bedtime Stories. These charming, old-fashioned stories have incredible appeal because they are true! These tales really happened, and they sometimes turn out disastrously! Each story is just a few pages long, so it is easy to sneak one in here and there in a busy schedule.

The five-volume set has a publication date of 1976, and it is actually a collection of the best stories found in the 1964 version, so you know old-fashioned Christian values are alive and well. In addition to the real stories about real children, each book has a story from the Bible. Each book has 192 pages, a glossy picture cover, and wonderful color drawings throughout. The very best thing about these stories is that they speak right to a child's heart! I read my daughter Louisa the story "Two Carolines," a story about a little girl who was very pleasant and lovable when out of the house but not very happy to those at home. A day later, Louisa came to me to confess, "I am like that story, Mom." The best part was that I never said one word! I read the story out loud, then Louisa saw herself in it and strived to correct her own behavior. Ooh, hard to beat that kind of powerful teaching—teaching through parables!

One of the stories my grown children remember best is "The Hollow Pie." Seems a certain young man always grabbed the biggest piece for himself rather than watching out for others and saying, "You go first." After a very disappointing dinner, one very sorry boy learned that maybe the biggest isn't always the best!

If a set will bless the whole family for years to come, this is it! As always, your satisfaction is unconditionally guaranteed.