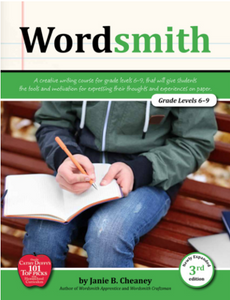 Wordsmith is designed to get students excited about writing, and it certainly accomplished that for us! Each lesson explains itself to the student, and then step-by-step leads him through the lesson with a write-in-the-blank workbook. Topics include: "So You Think You Hate Writing", word games using parts of speech, sentence structure, figures of speech, describing a person, narrative, writing dialogue, point of view, how to proofread, etc. The exercises are great for reluctant writers with enough fun to keep them going. Children must know some basic grammar (noun, verb, adjective, etc.) before using this course.
Optional Teachers Guide Ebook briefly explains daily lesson information and assignments and gives possible answers. Paperback, 90 pages, ages 12 and up.

Your ebook will be emailed to you directly from the publisher.