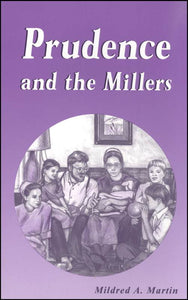 Written by the Mennonites, these conservative books are excellent for the Christian home. My children enjoy them immensely and truly remember the lessons taught. Lovely pencil-drawn illustrations, paperback, 159 pages. These refreshing books are founded on old- fashioned values and virtues.

Wisdom and the Millers (ages 6 - 12) contains 25 true and modern stories for children that bring the meaning of Bible verses from the Book of Proverbs to life. Will a father's prayer protect his family from a burglar? See how Grandpa's "soft answer" turned away the wrath of an angry police officer. My favorite story is about a boy who forgets to give water to the family's goats. His father's unique correction makes for a lesson never to be forgotten, even by my children after having just heard the story once! These are wholesome, interesting stories that my children want more and more of. So, here's more:

Storytime with the Millers (ages 4 - 10) contains character-building stories for preschool children that teach respect, responsibility, obedience, kindness, and humility. I was touched by the story of young children returning good for evil in "Three Young Indians." Stories include "Paul in the Manure Pit," "Bossy Betty," and many more.

In Prudence and the Millers (ages 7 - 14), join the Miller children as they learn about health, safety, and courtesy from the Bible. Each true story includes a scripture passage and provides a good example of prudent living. Read about the foolish joke that ended in a tragedy, the embarrassing consequences of not getting enough sleep, the Mother's Day fire, and more.