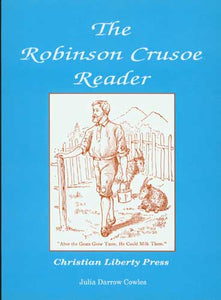 I have my young readers tackle this easy book at about age 7, after they have mastered phonics, and they always want it to go on forever. I look forward to listening to them read the next section aloud to me, as the story is so interesting.

The book starts with very short "chapters" of just a few paragraphs—well suited to the attention span of a beginning reader—and increases until each chapters at the end of the book are a few pages long. The classic Christian story of Robinson Crusoe has delighted people for generations and this simplified copy contains much of the original.

Hands-on activity ideas are given in the back of the book to expand the reading into a unit study. Very quaint black-and-white illustrations, large print. Reading level is noted as 9 years and up. Paperback, 105 pages.
Highly recommended!