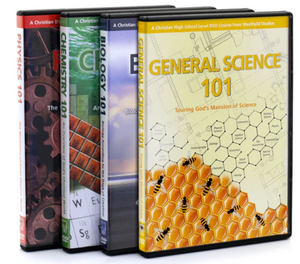 Purchase all four DVD curriculum sets together and save 15%!  Retail price is $339.80 if purchased separately.  
We have used—and absolutely loved!—these science courses on DVDs!  
Wes Olson, host of The 101 Series, presents these enthralling video presentations of science in God's world. These DVD courses are an easy-to-use, understandable and visually rich full curriculum designed specifically for ages 15 years and up, although my entire family enjoyed it and even our 8 year old understood a lot and paid attention.  These 4 DVD sets will cover the entire span of high school science!
Included is: General Science 101, Biology 101, Chemistry 101, and Physics 101, totaling more than 35 Hours of excellent and interesting science instruction! PLUS all Guidebook and Accreditation Program PDF files are included on Disc D of each set.
Here's how I use these DVD courses: Print off one guidebook for each student, which they will use in a fill-in-the-blank format after watching the DVD lesson. Also print off the quizzes and lab information. Put these in a binder, start the DVD, and you'll have a very complete and thrilling 4 years of high school course for every student in your family!  Easy to understand and interesting. Far better than a textbook course!
Highly recommended!