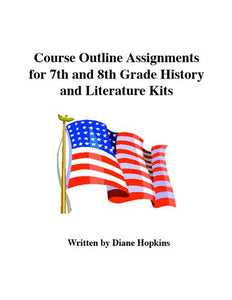 My favorite way of teaching 6-8 grade history!  Using the fabulous History of US series as your curriculum foundation, you can teach history, of course, but also use the topic of your studies for teaching Writing, Literature Studies, Humanities and Art.  The History of US complete set includes 11 fascinating, fun to read books full of color photos. I read these aloud to my children and we discuss them...they are SO interesting, and storylike.  They are also just as attention-keeping for a student to read silently.  They will love them, I promise!

The Course Outline includes reading assignments for the History of US series, week by week. You'll get topics to use in your composition writing that relate to the US historical time studies, plus recommendations for my favorite historical fiction books, one per unit, that bring each history to life! Some of my favorites are Night Journey, Carry On, Mr. Bowditch, Sign of the Beaver, Calico Captive. Don't miss watching the old Disney live action movie Squanto when you study the Pilgrims. Your kids will love it, and understand the tension between the white man and the Indians so much better!  Also includes recommendations for movie and art projects that will make your studies a memorable experience. 

Follow this Course Outline to provide the framework for two full years of history and literature studies for ages 12-16 years.  Written by Diane Hopkins. Ebook format.

Included in the "All Set for 7th" or "8th Grade" Complete Curriculum Kits.