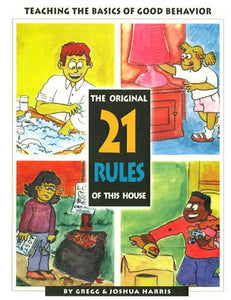 The first lessons in homeschool are about getting along with others, not bugging them, and obeying your teacher, right? Here's the perfect book to get you going on those important lessons!
Each rule is presented in a full-page cartoon picture for young children to color as you teach each rule. Easy teaching instructions are included too. Each rule in this book is also included as a tear-out poster so you can study and master them one by one. We put ours in a binder in plastic page protectors as we learned them, then we can easily review them often. Some of the rules are "We obey our Lord Jesus Christ," "We tell the truth," "When we make a mess, we clean it up," and "We do not create unnecessary work for others" (I like that one!). The book ends with a master list of the 21 Rules ready to post as a good reminder.
I have focused on one rule a week, introducing it with an impromptu story that I concoct to go along with the picture. My children listen attentively and are ready for the punchline, which is always "the rule." Then we memorize the rule. We review these each morning as school begins and remember to put the new rule into practice throughout the day.
It sure helps to have a rule to fall back on when correcting children, rather than just saying "We don't do that." When a certain little boy in my home laughed to see his sister cry, I could remind him of one of our rules: "When someone is sad, we comfort him." Don't miss this book!
 Your ebook will be emailed to you once your order has been processed in our system. Thank you!
Come see more of our homeschool product videos!