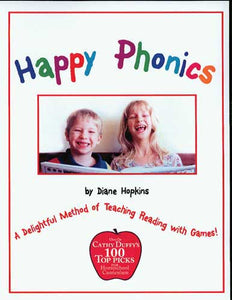 When my son Ammon was a very bright, wiggly and energetic 5-year-old, he couldn't seem to get interested in workbooks or sit still for lessons. The only way I could get his attention long enough to teach him to read was to play games with him. Over the years, these games have evolved into an easy, happy way to teach children to read, from the very first step (learning the ABC song) through advanced phonics and spelling.
Simple, yet entertaining and educational, these phonics games are printed on colorful, sturdy cardstock ready to cut out. Included is a mother-friendly guidebook which contains the details on how I teach phonics and reading, how to pronounce and teach the phonics sounds, how to make your own simple beginning readers, and step-by-step teaching info for each phonics sound.
Happy Phonics
covers beginning to advanced phonics and is the sum total of my experience. My children enjoy the games and never really realize that they are drilling phonics sounds! Enjoy learning games, little books, and activities as well as a 76-page beginning reader,
My Big Book
. Use with the 
Explode the Code Primers A, B, C 
for a complete manuscript handwriting and phonics course.
I think you will be very pleased with the pain-free, rapid reading results! I guarantee you will love it and your child will learn to read, or I'll send your money right back--happily!  Please note: y
our ebook will be emailed to you once your order has been processed in our system. Thank you!
I am excited and surprised to report that
Happy Phonics
was selected for the prestigious "Cathy Duffy's Top Picks for Homeschool Curriculum" award!
Hear what others say:
Games! What a brilliant way to teach a child to read. My kids absolutely love and beg for "phonics time" at our house!
—Regina

"My daughter was a little annoyed when I got out the muffin match game since she says she "already knows the letters", but after a few different activities, any time I tell her it is time to work on phonics, she excitedly yells "Let's do the muffin match game!" Thanks for helping make homeschool so fun!"
—C.D.
Come see more of our homeschool product videos!