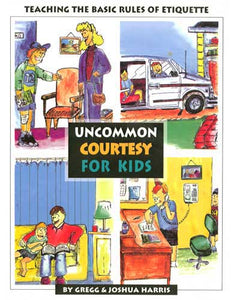 Once your children have the 21 Rules of This House down pat, it is time to turn your attention to the big world with some courteous know-hows on living with your fellowman respectfully and happily. Courtesy really has become uncommon! Maybe it is different where you live, but out West it seems that rudeness is the rule.

When we were young, if our parents didn't teach us to be mannerly, it still rubbed off from society, since others expected you to behave properly. Not always so today—it is time for this book! Uncommon Courtesy for Kids teaches table manners, phone manners, rules for church, courtesy words such as "pardon me," "please," and "thank you," how to treat adults, how to act on public transportation, manners in the car, and more.

Each topic is treated by listing several rules in large type so that it can be used as a visual aid or poster. The rules are also illustrated in full-page black-and-white cartoon drawings. We must choose to be courteous and develop the discipline of courtesy each day. We do not stumble into being a gentlemen or a lady. A good one!

Twenty art lessons—just enough to teach the basic principles of art. All your student will need is a pencil, crayons, and hands-on pages of this handy draw-in book to self-teach important concepts in art. I like to teach the concept before passing out the books so the children understand well before attempting the artwork. Covers these concepts: primary and secondary colors, mixing colors, warm and cool colors, line, texture, shape, form, space, values, proportions, balance, faces, grids, crosshatching, shading, and overlapping. For grades 4-7.