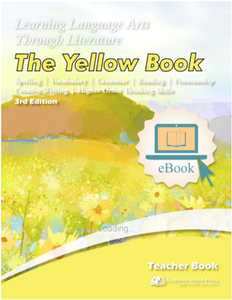 Handy ebook format saves you money!
With literature as its basis, this popular English program integrates spelling, reading, grammar, vocabulary, writing, poetry, research, and study skills. Besides that, it is easy for moms to use—all the preparation is done for you!  You may want to take a look at The Yellow Book, Student Activity Book, which makes this course super easy to manage.
6 lessons include dictation or copying of literature passages from great books your children will love. 
The Tale of Benjamin Bunny
 (Beatrix Potter), 
Alice's Adventures in Wonderland 
(Lewis Carroll), and 
The Tale of Jeremy Vole 
(Stephen Lawhead), poetry selections and much more! The updated third edition is even easier to use with new lessons, journaling, and more. Includes all the language arts skills: reading, spelling (with suggested lists included), grammar, higher order thinking skills, creative writing, and handwriting in an easy-to-use format. For your convenience, Teacher Notes
and answers are right in the margin of the teacher book. The Skills Index provides an easy reference.
Four Literature Links encourage students in vocabulary building, reading for content, and comprehension. Exciting activities bring each story to life and give your student many opportunities to be creative.
__36 weekly lessons divided into easy-to-use daily plans.

The following 4 books are included:

The White Stallion, by Elizabeth Shub
Madeline, by Ludwig Bemelmans
Meet George Washington, by Joan Heilbroner
The Courage of Sarah Noble, by Alice Dalgliesh

Integrated language lessons include: phonics, reading, spelling, grammar, phonics review and higher order thinking skills.

Focus on Spelling tips help with memorization of spelling rules. Suggested spelling lists are included for each lesson!

Handwriting Instructions and work pages for cursive writing included!

Teacher friendly, with little or no preparation needed!

Phonics Facts, Grammar Guides, and Punctuation Pointers keep students on track.

Review Activities follow most lessons providing additional skill practice.

Assessments help teachers to evaluate student's progress.
Your e
book will be emailed to you directly from the publisher.
Come see more of our homeschool product videos!
** Your Ebook will be emailed to you once your order has been processed in our system. The link sent to you will expire 14 days after the sent date. Be sure to download the file to your computer as soon as you receive the email. **