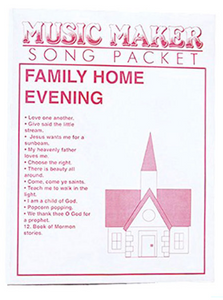 Play your favorite Primary and LDS songs:
• I Am a Child of God
• Love One Another
• Choose the Right
• Jesus Wants Me for a Sunbeam
• There is Beauty All Around
• Come, Come Ye Saints
• Teach Me to Walk in the Light
• We Thank Thee O God, For a Prophet
• Give Said the Little Stream
• My Heavenly Father Loves Me
• Popcorn Poppin' 
• Book of Mormon Stories 
Uses real notes notation.  Fits the Music Maker lap harp. 12 songs total.