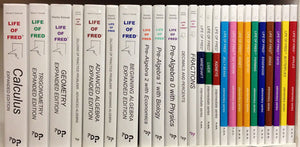 Love Life of Fred? Get the entire K-12 collection for your schoolroom sure to be used for many years to come! Life of Fred makes math understandable and fun. Complete 25 book set includes:
Apples
Butterflies
Cats
Dogs
Edgewood
Farming
Honey
Goldfish
Ice Cream
Jellybeans
Kidneys
Liver
Mineshaft
Fractions
Decimals and Percents
Pre-Algebra 0 with Physics
Pre-Algebra 1 with Biology
Pre-Algebra 2 with Economics
Beginning Algebra
Zillions of Problems Beginning Algebra
Advanced Algebra
Zillions of Problems Advanced Algebra
Geometry
Trigonometry
Calculus


See  Life of Fred Questions and Answers.

Purchase the entire collection to save over $50 off!