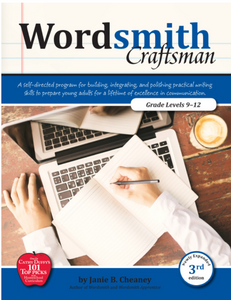 The young writer tackles practical skills that will be needed throughout life. Covers the simple task of taking notes—first on daily tasks, then on lectures and study materials. Outlining, summarizing, and writing business plans are all organizational skills. An extensive section on letter-writing, both personal and business, reinforces communication skills, including parallel constructions, making transitions, paragraph organization and selective detail.
The final section of Wordsmith Craftsman is a master class on The Essay, pulling together thought, organization, logic, personal connection, and style.  A well-written essay is rightly considered the mark of an educated, thoughtful man or woman. A student will learn how to apply the TOWER process (Think, Organize, Write, Evaluate, and Rewrite) to a variety of essay types, namely descriptive, narrative, expository, critical, and persuasive. The expository section includes a primer on the all-important first step in writing research papers (which will save a lot of freshman-comp angst later!)
The Appendix includes a handy reproducible form for note-taking and summary-writing, a warning essay about plagiarism, a summary of all the steps for each type of essay (with writing and revision guidelines), and a three-page roundup of common logical fallacies to be avoided (especially when writing persuasive essays).
Letter writing (or any form of everyday written communication), note-taking and outlining, summarizing, and essay writing are all essential skills to prepare a young adult not only for school but for life.
Here's a handy lesson plan for using Wordsmith Craftsman for a two-year course.